Robin
I'm looking for a new home...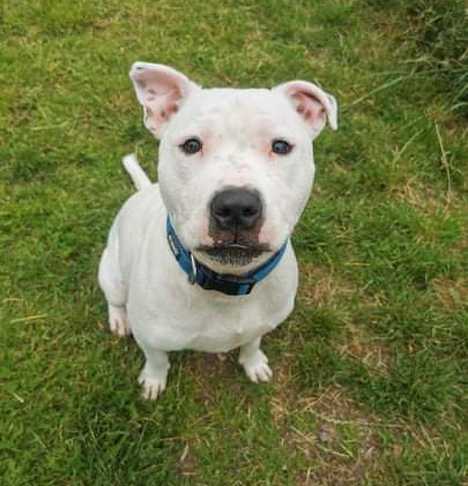 Gender:

Male

Age:

3 yrs, 3 m

Breed:

Staffordshire Bull Terrier

Neutered:

Yes
Vaccinated:

Yes

Chipped:

Yes

Size:

Medium
About Robin
---
Some of you may remember this boy from when he originally came in back in 2018. Aspen, now Robin came in at just 18 weeks old after he was removed from his owner who had bitten off part of his ear, and also his prepuce (the skin around his penis).
He has been in a home since who absolutely adore him, but he has become increasingly unhappy sharing his space with other animals, and has gone for both the other resident dog and cats. While he's been in kennels for the past few weeks, attempts have been made to settle him in with the resident male staffy there, and while 90% of the time they can get on really well he just is not happy sharing his space with them in a house, so will need a home as an only pet.
He needs an experienced adopter, who has lots of time to build his confidence and will need a couple of good daily walks. On the lead he is very strong and can bark at other dogs, but is redirected well and listens when told to walk on. He can over time be walked with other dogs, he is muzzled on them now and has been doing well. Harnesses do not work with him as they just give him more power to pull, so with a slip lead he's a lot better.
Robin does guard his food and treats if another animal is around also, but as an only pet shouldn't have any issues there.
In his previous home, he was destructive when left and could easily break out of crates, he hasn't (yet) shown any sign of this so hopefully with the couple of long walks a day this is something that won't appear again.
He is terrified of fireworks and smoke alarms, and any similar loud noises.
He is wonderful with people, adores everyone he meets and the feeling is mutual, its very hard to not love this boy the minute you meet him. We would be happy to place him with children around the age of 10 plus, he is big and bouncy though so wouldn't be suitable to live with small children.
The ideal home for Robin is one where people are home a lot, he needs a structured day with lots of routine, similar times and walks etc, and we must stress that he needs confident leadership, with plenty of boundaries ie not allowed on sofas etc until he knows his place and is settled in the home.
His adoption donation is £120, please apply at www.harleyshounds.org
I'm looking for a new home